| | |
| --- | --- |
| Click on the buttton to center the map at the excavation site coordinates. Underlined vilage names, when clicked pan the map to the actual village coordinates. | |
The work on the tumulus of Mikri Doxipara-Zoni has not been completed and the site is not yet fully prepared for visitors. Despite this, it was agreed early on that all visitors would be welcomed, a fact that led to large numbers coming to the site, not just from the region of Thrace, but also from different parts of Greece and from abroad. To date around 20000 people have visited the site to marvel at the wagon, horse and cremation burials at close quarters.
The visitor who decides to come to the site may follow two routes, either via Didymoteichon (33.5km) or through Orestiada (30.6km).
In the first instance, after leaving Didymoteichon , take the road to Kyprinos After passing through Ellinochori, Mani, Evgeniko, Elafochori and Daphne you reach Ladi. About 5km from Ladi turn right to the village of Chelidona and continue on to Mikri Doxipara. About 800m outside Chelidona on the left is the small church of Kosmas the Aetolian and a sign, which points to the — recently reconstructed — 1.7 Km asphalt roadway leading to the excavation.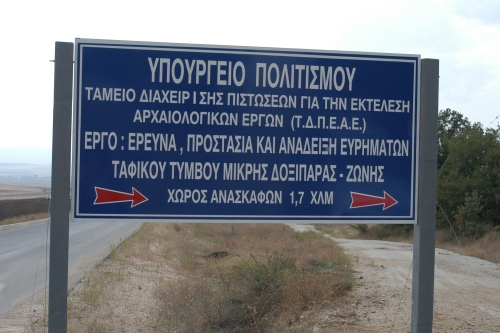 If the visitor approaches from Orestiada, follow the route to Valtos Leaving the city you pass through the villages of N. Pyrgos, Lepti, Neochori and at the village of Valtos turn left to Chandra, Megali Doxipara and Mikri Doxipara. From Megali Doxipara follow the signs to Chelidona. About 1.7km along is the church of Kosmas the Aetolian and the sign which leads to the excavation another 1.7km along a side road,
Visiting hours are 07.00 – 14.30 in winter and 07.00 – 17.00 in summer. The guards accompany the visitor beneath the shelters, which have been built to protect the wagons and cremations. Entry is free.
Organised coach tours must prearrange visits by calling 25520-96033.